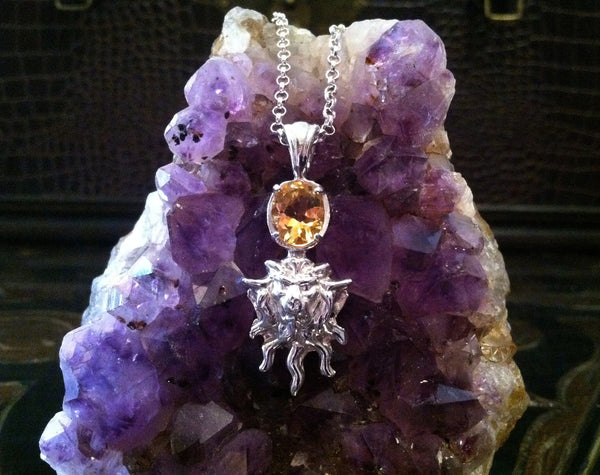 Jupiter in Leo - 11th House Talisman - Electrum, 1.5ct Yellow Sapphire
Jupiter in Leo - Audiences and Alliances, 11th House Talisman 
The Jupiter in Leo - 11th House Talisman was modeled by hand and cast in Electrum; an alloy of .925 Silver, and 18k Gold at exactly 1:40pm on July 20th, 2015. A 1.5 carat Yellow Sapphire is set above the magnanimous face of a lion.
The moon is fortified between the greater and lesser benefic (Jupiter, and Venus) at 18° in 11th house Leo; separating from Venus at 13° and Applying to a conjunction with Jupiter at 19°. This configuration, placed in the 11th house, lends it's beneficence into matters involving groups, audiences, friends and alliances, and the wearer's social standing. The ascendant in Libra (ruled by Venus) and midheaven in Cancer (ruled by the moon), lends to the chart's 11th house theme.
 Jupiter was the chosen planet to build the material form of talisman around, because he is the most dignified in the degree he occupies in Leo (by triplicity, and face/decan). It is also to Jupiter that the moon makes her next applying conjunction. Among the metals of jupiter is gold (Picatrix, Agrippa). In addition, Al Biruni puts forth both gold and silver for Venus. Agrippa and Picatrix list Silver for Venus among her metals. All sources attribute silver to the moon; making Electrum a fine metal to embody the talisman's best planetary attributes.
The 1.5carat Yellow Sapphire is the primary stone associated with jupiter in the Jyotish tradition of planetary gemstones. Al Biruni states "all white and yellow stones" for Jupiter. Agrippa and William Lilly list "saphir" among jupiter's stones, and for Picatrix "all white and golden stones".
The Jupiter in Leo - 11th House Talisman comes with a 20" sterling silver chain, and will arrive in a black leatherette pendant box.
---