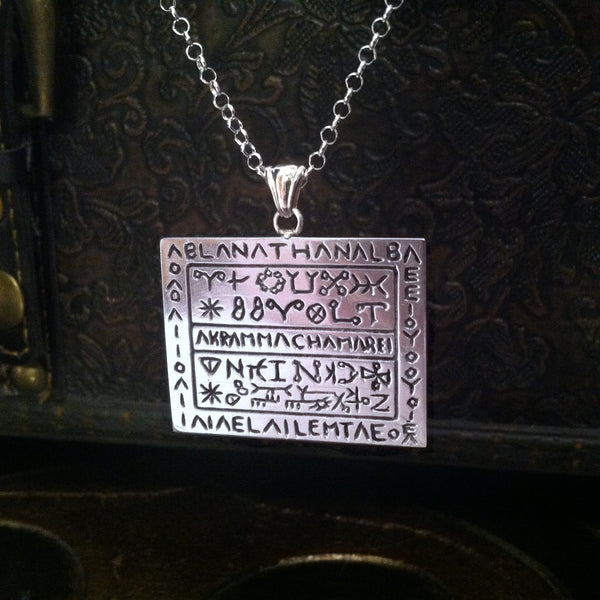 PGM X. 24-35 - "Charm to Restrain Hostility"
PGM X. 24-35 - "Charm to restrain Hostility"
"Charm to restrain anger which works in all cases, for it works against enemies, accusers, brigands, phobias, and nightmares.. Take a gold or silver lamella and engrave on it the characters and names, and when you have consecrated it, wear it in purity." -PGM X. 24-35, Betz translation
The PGM X. 24-35 talisman was modeled in hard carver's wax, and lost-wax in fine silver at precisely 6:08am on Oct 28, 2017. In addition to the instruction provided in the translation, astrological timing and planetary ritual & petition was employed. The significations within the astrological election were specifically selected to lend themselves to the particular function of the talisman as described in the Greek Magical Papyri. They are as follows: Venus, the ruler of the first house (signifying the wearer of the talisman) is dignified by domicile (+5), rises on the ascendant at 17° Libra, and is in sect in her morning star [spear-bearer] phase. The waxing moon applies to a trine with Venus from her terms/bounds at 10° Aquarius. Mars, who rules the 7th house (of open enemies/opposition) is essentially debilitated via detriment in Libra, and cadent in the 12th house. This particular arrangement speaks to a talisman with the function of fortifying and empowering the wearer, and thwarting that which opposes him/her. The enthroned Venus in libra, being the primary celestial entity of the election, makes for a less severe/obvious means of binding; as opposed to the leaden and vehement malefica of Saturnian and Martial planetary magic. ..rather a seductive means to charm and disarm.
The casting of the talisman was accompanied by evocation and suffumigation of frankinsence and viper's tongue, addresses to IAO Sabaoth / Abrasax, followed by petition and suffumigation to Venus.
The PGM X. 24-35 talisman arrives in a black leatherette pendant box. Included is a 20" sterling silver chain.
---