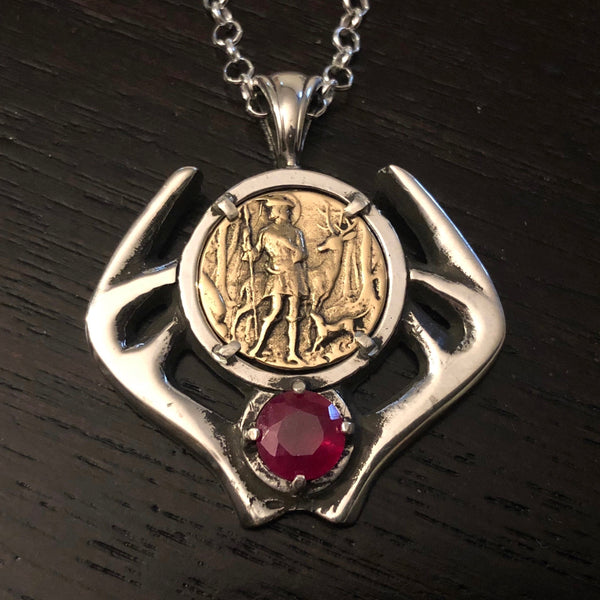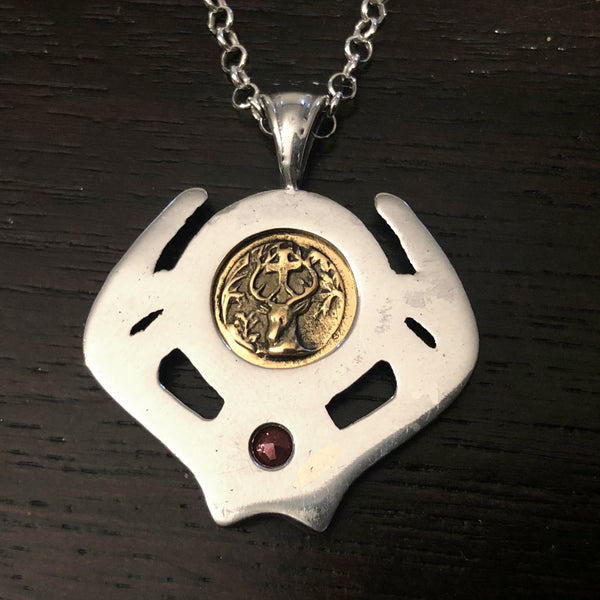 Saint Hubertus
Modeled in hard carver's wax, and lost wax cast in 14k gold and silver on the November 4th, the feast of Saint Hubertus. The scene shows Hubertus' vision of the Hart in gold - set between a stag's antlers above a prong-set 1.5 carat ruby.
Patron of hunters and metalworkers. Saint Hubertus'  wife died giving birth to their son, after which Hubert retreated from the court, and withdrew into the forests of Ardennes, giving himself up entirely to hunting. One Good Friday morning, as Hubertus was persueing a hart, the stag turned to him and Hubertus had a vision of a crucifix between its antlers accompanied by a voice. Hubertus dismounted his horse, prostrated himself before the hart asking "Lord, what wouldst Thou have me do?". The voice instructed him to turn to God, and lectured Hubertus on holding animals in high regard and with compassion as they are also God's creatures. The voice instructed Hubertus that the hunter ought to only shoot when a humane, clean and quick kill is assured - to take stags past their prime breeding years and to relinquish a shot on a trophy animal and instead take an old or injured animal that might appear on the scene. Further, one ought never shoot a female with young in tow to assure the young deer have a mother to guide them to food during the winter. Hubert was then told to set out immediately for Masstricht and seek out bishop Lambert, who received Hubert kindly, and became his spiritual director. Hubertus renounced his considerable honors, gave up his birthright to Aquitaine, and became a cleric. Upon the death of Lambert, Hubertus was named Bishop of Maastricht.
Saint Hubertus includes a 20" sterling silver chain, and arrives in a black leatherette pendant box.
---