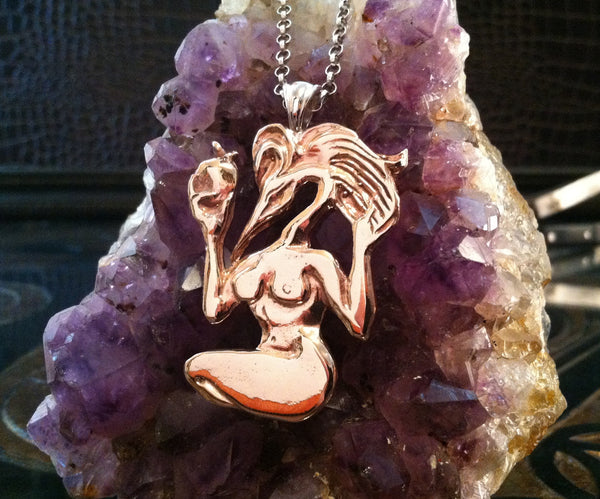 Venus in Taurus - Love Talisman
Venus in Taurus - Planetary Image Talisman
"If, under the influence of Venus, you make the image of a woman who's body is human with the head of a bird.. ..in her right hand an apple, and in her left hand a wooden comb.. everyone who carries this image with them will receive good and be liked by everyone."
~Picatrix, Book II Chapter X
The Venus in Taurus Image Talisman was modeled by hand, and lost-wax cast in solid .999 silver and a small amount of copper (the metal ruled by Venus) at exactly 3:15pm on March 27, 2015 in WIlliamsport, PA. Casting was followed by traditional Petitions and Suffumigation to Venus as put forth by the authoritative grimoire of medieval astrological magic, Picatrix.
Venus applies to the midheaven, dignified by domicile (+5), and Triplicity (+3) at 12° Taurus; applying to Jupiter in 1st House Leo. The waxing Moon is separating from Jupiter, and in an applying sextile to venus from the Moon's domicile (+5) at 12° Cancer, being received by Venus from her Exaltation, Triplicity, and Term. The Lord of the 1st house is the Sun, dignified by Exaltation and Triplicity, as well as being In Sect and in its House Joy in the 9th House. 
The Venus in Taurus Image Talisman comes with a 20" silver chain, and arrives in an attractive black leatherette pendant box.
Dimensions: 1,3/4" x 1,1/4"